In the last year or so, Adobestock has been performing increasingly better. Both videos and photos sales are showing an increase month over month. Consequently, Adobestock is becoming the highest earning microstock agency for quite some people. However, not everybody tells the same tale; most likely the difference between video and photo performances skews the results. Let's have a look at my Adobestock earnings to see what is happening.
Portfolio size
Where better to start than at the portfolio size. My portfolio size on Adobestock has been rising every year with ± 300 photos (except from 2020 in which it grew 4 times as much). Whereas the video portfolio size has been rising with ± 500 assets a year. This year I did not upload any videos yet as I have problems with uploading through SFTP. I included a graph of my video & photo portfolio size over the years below. There are no surprises such as asset removals etc. but it might be worth noting that my editorial portfolio is very small (±50 photos) on Adobestock.
Earnings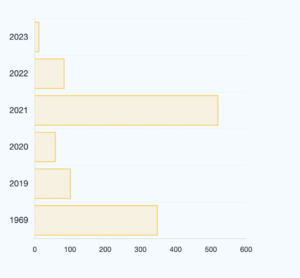 My earnings for Adobestock have been rising steadily although my efforts in increasing my portfolio size have not been that large lately. As you can see in the in the first graph (top left corner), I earned this year as much as the whole last year together with my photo portfolio. My video portfolio has earned a little more than half of my total earnings of 2022. Hence, it is going well but by far not as good as with my photo portfolio. Almost the entire rise in profit is owing to Adobestock as the images that are being sold are virtually all of previous years (2019-2022). See image at the right.
Accordingly, as said in the introduction Adobestock has been performing increasingly better. Let's compare them with Shutterstock and Igetty (See lower left corner for photos and lower right corner for videos). With regards to videos, Adobestock is placed third in revenue among the three stock agencies whereas my Adobestock photo portfolio is placed first by far in terms of revenue*. This has been so for a little less than a year now. Hence, as being said in the introduction the revenue growth in Adobestock is a two-sided tale. Whereas it is true for photos it does not apply (entirely) to my video portfolio.
*Ignore Shutterstock photo revenue of the month May as this include a large part of AI-revenue.
Detailed stats
Let's have a closer look at what is selling how. I have included four graphs below showing how much is selling with as a 'Custom' sale and how much is selling as a 'Subscription' sale. As you can see an increasingly larger part of my sales comes from 'Custom' sales. This is a trend that can be seen from the year 2021 up to now. Revenue Per Download (RPD) for both 'Subscription' and 'Custom' sales has been declining. In 2022 the RPD was $ 0.91 for 'Custom' sales and $ 0.77 for 'Subscription' sales whereas in this year I received $0.81 and $0.66 respectively. However, my average RPD has stayed the same due to the higher amount of 'Custom' sales.
Let's go to the video portfolio. Not much has changed in the rate of 'Custom' and 'Subscription' sales. However, RPD for videos has fallen to one-third of the 2021 RPD for videos (see the image at the left side below this paragraph). Which makes it lower than my video RPD at Shutterstock but still higher than my RPD at Getty. I will be realistic and should note that the RPD was very high in 2021, with the other parties dropping their prices Adobestock could not keep selling at those prices. The question is whether this drop in price results in more sales. The good news is that sales are indeed increasing (see image at the right side below this paragraph). Moreover, my RPI is slightly higher this year than last year. Hopefully that is a trend that keeps going up!
Conclusion
Adobestock has become my highest earning microstock agency for photos. More and more, custom clients are buying stock photos from them (in my portfolio). Which might explain the increase in earnings. For videos the story is a bit different. Although my RPI for videos is increasing slightly, it is still a far shot to say that Adobestock might become my number one overall agency.
*All images and statistics have been acquired from the pangamedia-analytics application. A desktop application to analyze your earnings among different agencies.
---
---